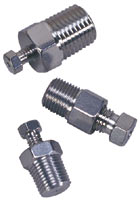 Male pipe adapters make a minimum volume connection from the female pipe fittings on pressure gauges and regulators to Valco zero dead volume internal fittings.
Standard material is 300 series stainless. Also available in Hastelloy C and titanium versions.
Description
Bore
Product No.
1/8" NPT male to:
1/16" ZDV
1.0 mm
PZA21
1/16" ZDV
1/16"
PZA21T
1/8" ZDV
1.0 mm
PZA22
1/4" NPT male to:
1/16" ZDV
1.0 mm
PZA41
1/8" ZDV
1.0 mm
PZA42*
1/8" ZDV
2.0 mm
PZA42L
1/4" ZDV
4.6 mm
PZA44L*
* Available as a special order item.
1/2" to ZDV also available.
Pipe thread sizes
NPT, National Pipe Thread, is a standard developed a long time ago by people without rulers. 1/8" NPT is nowhere close to 1/8"! Measure the diameter of the fitting across the narrow end. You can also count the number of threads in a 1" section. Then look at the illustration below to determine the correct size needed.