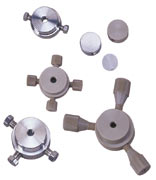 These hybrid two piece designs were state-of-the-art at a time when conventional machining equipment was not capable of drilling nanobore through- holes in typical unions, tees, and crosses. Current machining techniques have advanced to permit machining nanobore passages in standard fitting bodies, at least for most materials. These fittings are less costly to manufacture and offer other advantages over the original two piece designs. For these reasons, we are in the process of transitioning most materials to a one piece design. With few exceptions, what was previously available in the microvolume two piece design will now be available in a new one piece design, in most cases at a lower price!
Please note that the original microvolume fittings featured an 8-32 thread mounting hole at the center of the fitting. In the new one piece versions, this mounting hole is optional.
Some of the more popular fittings are listed below, along with the updated version. Contact us if you have any questions.
Microvolume part number
Replacement part number
MT.5XCS6
ZT.5XCS6-M
MX.5XCS6
ZX.5XCS6-M
MU1XCS6
ZU1XCS6-M