Simplicity and low cost are the main advantages of manual actuation. Some models can be orderd with position feedback, an option which sends a signal to start a data system when the valve is switched.
If you have a Valco W Type valve with no hardware and want a knob on it, or if you are converting an air or electrically actuated two position valve to manual use, this is what you need.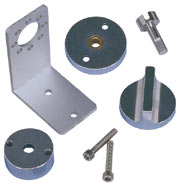 If you have a valve but no actuation hardware, this assembly will allow you to mount it in an oven and actuate it with a knob outside the heated zone.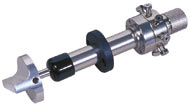 If you already have a spare standoff assembly but lack the knob or retainer, or have an actuated valve on a standoff which you'd like to convert to manual use, you'll find what you need here.