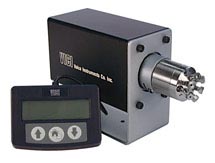 valve actuator with Cheminert HPLC injector
One electric actuator works with two position valves and selectors
Simplified, universal communication protocol
Variety of interfaces
Three versions for various valve torque requirements
Autosensing universal power supply, 110/230 VAC to 24 VDC
The universal actuator allows instrument manufacturers to use a single motor and control software to operate virtually any Valco or Cheminert rotary valve. This simplifies the electronic aspect of instrument design and streamlines the development process.
All our Valco and Cheminert valves and selectors, with their wide range of turning torques, are covered by three actuator versions: high speed, medium speed/medium torque, and high torque. Click <here> if you have a question about which actuator model you need.
The standard interface allows simple positioning commands -- Step and Home for selectors, A and B for two position -- via direct input signals from switch closures, relay contacts, or TTL-compatible interfaces. A more extensive command set is available with the optional RS232/485, USB, or BCD interfaces.
Actuators listed below include universal 24 volt DC power supply and a manual remote. An OEM version that excludes these items is also available. Mounting hardware must be ordered separately. Please contact our sales or technical staff to determine the correct hardware needed.
Model
Interface
Product No.
EUH
High speed
Standard
EUH
RS-232
EUHA
USB
EUHB
BCD
EUHC
RS-485
EUHF
EUD
Medium torque
Standard
EUD
RS-232
EUDA
USB
EUDB
BCD
EUDC
RS-485
EUDF
EUT
High torque
Standard
EUT
RS-232
EUTA
USB
EUTB
BCD
EUTC
RS-485
EUTF