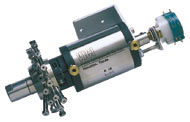 Multiposition air actuator
Reliable performance under stringent conditions
Light weight and low gas consumption suitable for aerospace applications
High temperature model for use up to 175°C
Can be automated with the addition of a Serial Valve Interface (SVI)
The recommended method for implementing a selector (multiposition) air actuator requires only a single 4-way solenoid. This implementation is described more fully in Technical Note 406. Up to 80 psig may be used without damaging the valve or actuator.
Multiposition air actuators include a rotary switch which may be connected to a digital readout or your own design.
The actuator's number of positions must be properly matched to the valve's. If you are converting a manual valve to electric actuation and have any doubts about which actuator and hardware you need, contact our sales or technical staff for assistance.
Select a temperature range and the number of positions required to view actuator product numbers:
Standard temperature
(up to 70°C)
High temperature
(50°C to 175°C)
Standard temperature multiposition air actuators - 4 position
No. of positions
Hardware
Product No.
4
closemount
A4
2" standoff
A42
3" standoff
A43
4" standoff
A44
6" standoff
A46
for use w/existing standoff
A4S
Standard temperature multiposition air actuators - 6 position
No. of positions
Hardware
Product No.
6
closemount
A6
2" standoff
A62
3" standoff
A63
4" standoff
A64
6" standoff
A66
for use w/existing standoff
A6S
Standard temperature multiposition air actuators - 8 position
No. of positions
Hardware
Product No.
8
closemount
A8
2" standoff
A82
3" standoff
A83
4" standoff
A84
6" standoff
A86
for use w/existing standoff
A8S
Standard temperature multiposition air actuators - 10 position
No. of positions
Hardware
Product No.
10
closemount
A10
2" standoff
A102
3" standoff
A103
4" standoff
A104
6" standoff
A106
for use w/existing standoff
A10S
Standard temperature multiposition air actuators - 12 position
No. of positions
Hardware
Product No.
12
closemount
A12
2" standoff
A122
3" standoff
A123
4" standoff
A124
6" standoff
A126
for use w/existing standoff
A12S
Standard temperature multiposition air actuators - 16 position
No. of positions
Hardware
Product No.
16
closemount
A16
2" standoff
A162
3" standoff
A163
4" standoff
A164
6" standoff
A166
for use w/existing standoff
A16S
High temperature mulitposition air actuators - 4 position
No. of positions
Hardware
Product No.
4
closemount
AT4
2" standoff
AT42
3" standoff
AT43
4" standoff
AT44
6" standoff
AT46
for use w/existing standoff
AT4S
High temperature mulitposition air actuators - 6 position
No. of positions
Hardware
Product No.
6
closemount
AT6
2" standoff
AT62
3" standoff
AT63
4" standoff
AT64
6" standoff
AT66
for use w/existing standoff
AT6S
High temperature mulitposition air actuators - 8 position
No. of positions
Hardware
Product No.
8
closemount
AT8
2" standoff
AT82
3" standoff
AT83
4" standoff
AT84
6" standoff
AT86
for use w/existing standoff
AT8S
High temperature mulitposition air actuators - 10 position
No. of positions
Hardware
Product No.
10
closemount
AT10
2" standoff
AT102
3" standoff
AT103
4" standoff
AT104
6" standoff
AT106
for use w/existing standoff
AT10S
High temperature mulitposition air actuators - 12 position
No. of positions
Hardware
Product No.
12
closemount
AT12
2" standoff
AT122
3" standoff
AT123
4" standoff
AT124
6" standoff
AT126
for use w/existing standoff
AT12S
High temperature mulitposition air actuators - 16 position
No. of positions
Hardware
Product No.
16
closemount
AT16
2" standoff
AT162
3" standoff
AT163
4" standoff
AT164
6" standoff
AT166
for use w/existing standoff
AT16S