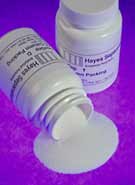 Made-to-order packed columns
Hayes Separations, Inc. of Bandera, Texas has been manufacturing porous polymers for use in gas chromatography since 1983. Since then some of these polymers have been developed for clean-up of air and water and as a bone replacement material.
In addition to supplying polymers for gas chromatography, Hayes Separations also tailor-makes packed columns and provides technical assistance in all aspects of GC.
Call or email
Email
Phone
(830) 796-4512
Fax
(830) 796-4655
Address
P.O. Box 1674
Bandera, Texas 78003