Combo valves incorporate needle and shut-off valve functions, providing a settable flow rate with positive shut-off.
A new generation needle and shut-off valve provides screwdriver-adjustable control and positive shut-off without damage to the needle. It is ideal for providing hydrogen and air to an FID, since the flow setting is not changed by turning the valve on and off.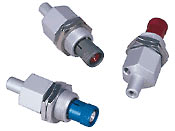 Very similar in function to the Valco combo valves, these are the original, hex-bodied combo valves made by the Condyne division of VICI Metronics for nearly 30 years. Condyne products have been transferred to the Valco Houston location, where a number of improvements have been made.