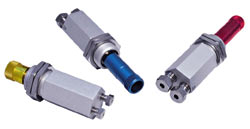 Condyne combo valves
Very similar in function to the Valco combo valves, these are the original, hex-bodied combo valves made by the Condyne division of VICI Metronics for nearly 30 years. Condyne products have been transferred to the Valco Houston location, where a number of improvements have been made.
Standard construction features an anodized aluminum body with Viton® O-ring seals. Maximum inlet pressure is 100 psi, with a maximum temperature of 100°C. Valco 1/16" or 1/8" nuts and ferrules are included.
Max. flow*
Knob color
Fitting size
Product No.
10 ml/min
Green
1/16"
CVA10GS1
1/8"
CVA10GS2
50 ml/min
Red
1/16"
CVA50RS1
1/8"
CVA50RS2
150 ml/min
Blue
1/16"
CVA150US1
1/8"
CVA150US2
500 ml/min
Black
1/16"
CVA500BS1
1/8"
CVA500BS2
1 liter/min
Yellow
1/16"
CVA1KYS1
1/8"
CVA1KYS2
* At 40 psi He or N2