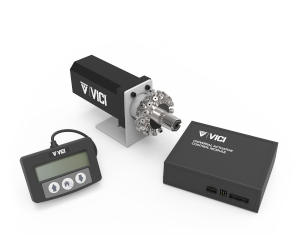 All the features of the standard composite model
Modular for more flexibility in instrument design
Replacement for the microelectric actuator
The universal actuator allows instrument manufacturers to use a single motor and control software to operate virtually any Valco or Cheminert rotary valve. This modular version gives even more flexibility in space utilization. An added benefit is that the more sensitive electronics module can be located away from any potential liquid leaks from the valve or fittings.
As with the standard universal actuator, the modular is available in three versions: high speed, medium speed/medium torque, and high torque. Click <here> if you have a question about which actuator model you need.
This actuator is a replacement for the previous microelectric multiposition actuator (part numbers EMH, EMT, etc.); the motor is identical, and the controller is the same size, with the same cable connections. And while the modular universal actuator perfectly mimics the microelectric's functionality, it packs even more features into the same small package.
Actuators listed below include universal 24 volt DC power supply and a manual remote. An OEM version that excludes these items is also available. Mounting hardware must be ordered separately. Please contact our sales or technical staff to determine the correct hardware needed.
Model
Interface
Product No.
UMH
High speed
Standard
UMH
RS-232
UMHA
BCD
UMHC
RS-485
UMHF
UMD
Medium torque
Standard
UMD
RS-232
UMDA
BCD
UMDC
RS-485
UMDF
UMT
High torque
Standard
UMT
RS-232
UMTA
BCD
UMTC
RS-485
UMTF