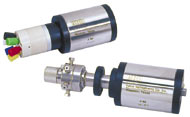 Air actuators with close-mounted Cheminert injector (top) and with Valco injector on a 2" standoff
Reliable performance under stringent conditions
Light weight and low gas consumption suitable for aerospace applications
High temperature model for use up to 175°C
Can be automated with the addition of a Digital Valve Interface (DVI)
The recommended method for implementing a two position air actuator is a manifold solenoid valve assembly (MSVA2), a block-mounted pair of 3-way solenoids that pulses air to the actuator to switch it from position to position. If air is applied continuously, the continuous rotational force applied to the valve can cause sideloading, leaking, and additional wear. This implementation is described more fully in Technical Note 405.
Typical actuation pressure is 40 to 50 psig, but up to 80 psig may be used. Ideally, you should use only enough air pressure to switch the valve in 1/3 to 1/2 second.
The actuator's rotation must be properly matched to the valve's. If you are converting a manual valve to air actuation and have any doubts about which actuator and hardware you need, contact our sales or technical staff for assistance.
Select a temperature range and the number of ports in the valve to view actuator product numbers:
Standard temperature
(up to 70°C)
High temperature
(50°C to 175°C)
Standard temperature two position air actuators - 90°
| Hardware | Product No. |
| --- | --- |
| closemount | A90 |
| 2" standoff | A902 |
| 3" standoff | A903 |
| 4" standoff | A904 |
| 6" standoff | A906 |
| for use w/existing standoff | A90S |
Standard temperature two position air actuators - 60°
| Hardware | Product No. |
| --- | --- |
| closemount | A60 |
| 2" standoff | A602 |
| 3" standoff | A603 |
| 4" standoff | A604 |
| 6" standoff | A606 |
| for use w/existing standoff | A60S |
Standard temperature two position air actuators - 45°
| Hardware | Product No. |
| --- | --- |
| closemount | A45 |
| 2" standoff | A452 |
| 3" standoff | A453 |
| 4" standoff | A454 |
| 6" standoff | A456 |
| for use w/existing standoff | A45S |
Standard temperature two position air actuators - 36°
| Hardware | Product No. |
| --- | --- |
| closemount | A36 |
| 2" standoff | A362 |
| 3" standoff | A363 |
| 4" standoff | A364 |
| 6" standoff | A366 |
| for use w/existing standoff | A36S |
Standard temperature two position air actuators - 30°
| Hardware | Product No. |
| --- | --- |
| closemount | A30 |
| 2" standoff | A302 |
| 3" standoff | A303 |
| 4" standoff | A304 |
| 6" standoff | A306 |
| for use w/existing standoff | A30S |
High temperature two position air actuators - 90°
| Hardware | Product No. |
| --- | --- |
| closemount | AT90 |
| 2" standoff | AT902 |
| 3" standoff | AT903 |
| 4" standoff | AT904 |
| 6" standoff | AT906 |
| for use w/existing standoff | AT90S |
High temperature two position air actuators - 60°
| Hardware | Product No. |
| --- | --- |
| closemount | AT60 |
| 2" standoff | AT602 |
| 3" standoff | AT603 |
| 4" standoff | AT604 |
| 6" standoff | AT606 |
| for use w/existing standoff | AT60S |
High temperature two position air actuators - 45°
| Hardware | Product No. |
| --- | --- |
| closemount | AT45 |
| 2" standoff | AT452 |
| 3" standoff | AT453 |
| 4" standoff | AT454 |
| 6" standoff | AT456 |
| for use w/existing standoff | AT45S |
High temperature two position air actuators - 36°
| Hardware | Product No. |
| --- | --- |
| closemount | AT36 |
| 2" standoff | AT362 |
| 3" standoff | AT363 |
| 4" standoff | AT364 |
| 6" standoff | AT366 |
| for use w/existing standoff | AT36S |
High temperature two position air actuators - 30°
| Hardware | Product No. |
| --- | --- |
| closemount | AT30 |
| 2" standoff | AT302 |
| 3" standoff | AT303 |
| 4" standoff | AT304 |
| 6" standoff | AT306 |
| for use w/existing standoff | AT30S |