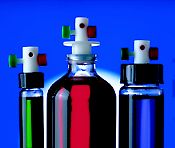 Leak-tight closure with syringe access
Models for virtually any laboratory glassware
Replaceable septum
Simple installation
Mininert push-button valves are highly dependable, leak-tight closures for screw-cap vials and other laboratory containers. When used with a glass vial, only PTFE and glass are in contact with the contents. Their unique features make Mininert valves the ideal closure for calibration standards, air- or moisture-sensitive fluids, derivatizing reagents, or volatile chemicals.
Operation is extremely simple - push the green button to open the valve, insert the needle through the septum and take a sample, withdraw the needle, and push the red button to close the valve.