Click any photo for a larger view.
Welcome to the unique "campus" site of Valco Instruments in Houston – over 12 acres of woods, research and testing labs, machine shops, offices, and assembly sites, all folded gracefully among residential neighborhoods and a specialty shopping area. Our attention to landscaping and maintaining the residential feel of the area, combined with the state-of-the-art equipment inside those quiet exteriors, articulate the Valco priority of being a good neighbor while maintaining technical excellence.
| | | |
| --- | --- | --- |
| The entry to the administration building at 7811 Westview | The shaded visitors' lot | View of Westview from the entry drive |
| Natural Houston landscaping behind the reception area | One of our state of the art machine shops, with well over a hundred advanced CNC machining centers | Wide walkways connect the campus buildings |
| 8300 Waterbury shipping and manufacturing facility | Additional manufacturing facility at Northwest Place | Our landmark at the corner of Wirt and Westview – the bell tower with a 53 bell carillon. |
VICI AG International, in Schenkon, Switzerland, is an independent site for the manufacturing of Valco and Cheminert valves and the handling of all VICI product lines in Europe, Africa, the Middle East, and the Far East.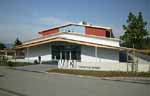 Front entry to VICI AG
VICI Metronics, in Poulsbo, Washington, is the leading manufacturer of devices and instruments that are used in the generation of calibration gas standards. Metronics also makes GC capillary columns and high performance gas specific purifers suitable for use in GC/MS and LC/MS systems.
| | | |
| --- | --- | --- |
| VICI Metronics office and production facilities | Building under construction in 2007 | Waterfront area of downtown Poulsbo, WA |
| Downtown Poulsbo reveals its Norwegian roots | Nearby Hood Canal and the Olympic mountains | |
VICI Precision Sampling's facility reflects the pine woods of the Louisiana Gulf region. Precision Sampling produces syringes, Mininert valves, and probes.
VICI Precision Sampling's office and production facilities
The Gig Harbor facility houses the VICI graphics department. Also in beautiful Gig Harbor is Arabella's Landing, a must-stay stop for boaters touring Puget Sound.
| | | |
| --- | --- | --- |
| VICI Gig Harbor office | A flower garden on the corner greets passersby | Mount Rainier maintains a majestic presence over Gig Harbor |
| The sun rises over Mt. Rainier's shoulder and past the tip of Vashon island | Flowers abound on the decks around Arabella's Landing marina | |