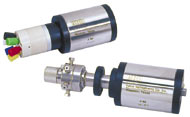 Reliable performance under stringent conditions
Light weight and low gas consumption suitable for aerospace applications
High temperature model for use up to 175°C
Can be automated with the addition of a Digital Valve Interface (DVI)
Air actuators are useful in situations where any spark could be disastrous or where there is no electricity available. They are small, relatively inexpensive, very rugged and dependable, and field-serviceable. Low gas consumption and lightweight, compact construction make the air actuator suitable for aerospace flight hardware applications as well as laboratory or process applications.
The standard air actuator is rated for up to 80 psig at temperatures up to 70°C. Generally speaking, valves which will be heated require a standoff assembly, which locates the air actuator out of the heated zone and supports both the valve and actuator. A high temperature model permits both valve and actuator to be mounted within an oven (175°C maximum), but it is not recommended for use below 50°C.
The actuator's rotation (two position) or number of positions (multiposition) must be properly matched to the valve's. If you are converting a manual valve to electric actuation and have any doubts about which actuator and hardware you need, contact our sales or technical staff for assistance.