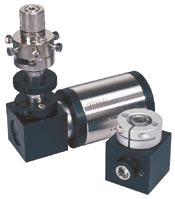 Right angle drive
Some installations don't work so well with the valve and actuator installed in the typical in-line configuration. The right angle drive is a 90° gearbox which permits the actuator or handle to be installed at a right angle to the valve.
The RAD fits all VICI two position electric and air actuators, but it cannot be used with valves with 1/4" fittings.
Because the RAD works with a variety of actuators and valves, the proper mounting hardware must be ordered separately. Consult the factory for help with your application.