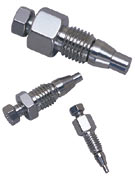 Valco's IZR internal reducers allow smaller tubing to be used in valves with fitting details for larger tubing. The latest addition to the line allows direct connection of 360 micron tubing to one of our 1/32" valves.

O-ring to external adapters make a minimum volume connection from 10-32 or 5/16-24 female threads to 1/8" external fittings. O-ring to internal adapters go from the same thread size to a Valco zero dead volume internal fitting detail.

External to internal adapters and reducers make it easy to get to a standard Valco fitting from an injector or detector with an external fitting. Our tube adapter offers another option if that external fitting is 1/4". The aerosol adapter bulkhead union provides an easy method of connecting the nozzle of an aerosol can to a 1/16" Valco ZDV fitting.