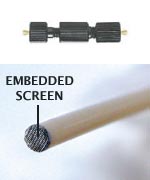 NOTE: Nanovolume column end fittings are non-stock items, available only on a special order basis.
Nanovolume® column end fittings include two liners to adapt the 1/32" fitting to fused silica. The 27 mm liner, used inside the internal nut, has a 1 µm 316 stainless steel screen embedded in the PEEK to provide closure for fused silica columns. The 10 mm liner is used with the external nut.
Like other Nanovolume fittings, column end fittings include our one-piece 1/32" fingertight fittings, with a patented* collapsible ferrule. To avoid potential confusion, all fittings utilizing the Cheminert collapsible ferrule are made of black PEEK. The liners are natural PEEK.
US patent no. 6,575,501

Bore
For tubing OD
Product No.
100 µm
125 - 175 µm
C-NEF.5XFPK.15S1
175 - 225 µm
C-NEF.5XFPK.20S1
225 - 25 µm
C-NEF.5XFPK.25S1
275 - 325 µm
C-NEF.5XFPK.30S1
325 - 375 µm
C-NEF.5XFPK.35S1
150 µm
125 - 175 µm
C-NEF.5FPK.15S1
175 - 225 µm
C-NEF.5FPK.20
225 - 25 µm
C-NEF.5FPK.25S1
275 - 325 µm
C-NEF.5FPK.30S1
325 - 375 µm
C-NEF.5FPK.35S1