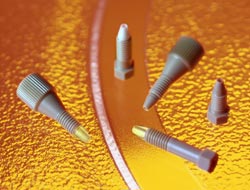 Cheminert high pressure fittings for high performance liquid chromatography are rated at 5000 psi with fingertight nuts, well beyond the burst strength of most PEEK tubing. These fittings are machined from high quality inert polymers to the same exacting tolerances as our popular Valco zero dead volume fittings, and the taper angle and detail design conform to the industry standard established by the Valco line.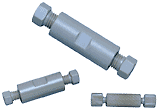 Top

Color-it snap-on extensions color-code our 1/4" hex-head nuts and turn them into fingertight fittings.

This column coupler adapts automatically to fit all pilot lengths – Valco, Waters, Upchurch, Rheodyne, etc. Coupler IDs are indicated by the color of the sleeve.

These handy tools make it fast and easy to tighten PEEK hex-head fittings. For 360 µm, 1/32", and 1/16" fittings.

Top

The PEEK starter kit facilitates replacement of stainless steel tubing, fittings, etc, to create a biocompatible environmnet for samples and mobile phase.
Includes a plastic box holding 6 m tubing and almost 50 fittings.