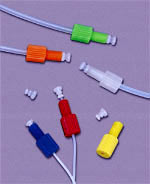 Flangeless 1/4-28 tube end fittings eliminate the flanging tool required with standard tube end fittings. The nut turns on the tubing as freely as with our flanged fitting, eliminating the possibility of cracking or unscrewing that can occur when plastic tubing is subjected to twisting as fittings are connected.
Cheminert flangeless fittings include our patented* collapsible ferrule design. This innovative design utilizes a one-piece ferrule engineered to collapse as it is tightened. The collapse takes place in a very narrow area, and results in a very effective seal with virtually no distortion of the tubing ID and no dead volume.

Cheminert tube end fittings work with any 1/16" or 1/8" OD polymeric tubing. CTFE nuts come in twelve different colors for system color coding. PEEK nuts are natural tan.
*Patent No. 6,575,501
1/16" tube end fittings
Materials
Color of nut
Product No.
Polypropylene nuts,
CTFE ferrules
(Pkg of 5)
Black
CFL-1BK
Blue
CFL-1BE
Brown
CFL-1BR
Dark gray
CFL-1DG
Green
CFL-1G
Lavendar/pink
CFL-1L
Natural
CFL-1N
Orange
CFL-1E
Purple
CFL-1P
Red
CFL-1R
White
CFL-1W
Yellow
CFL-1Y
Polypropylene nuts,
CTFE ferrules
(Pkg of 12)
Assorted
(1 of each color)
CFL-1A
Polypropylene nuts,
PEEK ferrules
(Pkg of 12)
Assorted
(1 of each color)
CFL-1A-PK
Setting tool
CST
REPLACEMENT PARTS
CTFE ferrules (Pkg of 10)
CFL-CB1KF
PEEK ferrules (Pkg of 10)
CFL-CB1PK
PEEK nut(each)
CFL-1PK-S
Top

1/8" tube end fittings
Materials
Color of nut
Product No.
Polypropylene nuts,
CTFE ferrules
(Pkg of 5)
Black
CFL-2BK
Blue
CFL-2BE
Brown
CFL-2BR
Dark gray
CFL-2DG
Green
CFL-2G
Lavendar/pink
CFL-2L
Natural
CFL-2N
Orange
CFL-2E
Purple
CFL-2P
Red
CFL-2R
White
CFL-2W
Yellow
CFL-2Y
Polypropylene nuts,
CTFE ferrules
(Pkg of 12)
Assorted
(1 of each color)
CFL-2A
Polypropylene nuts,
PEEK ferrules
(Pkg of 12)
Assorted
(1 of each color)
CFL-2A-PK
Setting tool
CST
REPLACEMENT PARTS
CTFE ferrules (Pkg of 10)
CFL-CB2KF
PEEK ferrules (Pkg of 10)
CFL-CB2PK
PEEK nut (each)
CFL-2PK-S
Top