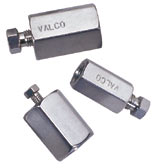 Female pipe adapters make a minimum volume connection from the male pipe fittings typically found in gas distribution plumbing to Valco zero dead volume internal fittings.
Standard material is 300 series stainless. Also available in Hastelloy C and titanium versions.
| Description | Bore | Product No. |
| --- | --- | --- |
| 1/8" NPT female to 1/16" ZDV | 1.0 mm | FPZA21 |
| 1/4" NPT female to 1/8" ZDV | 2.0 mm | FPZA42L |
Also available in other sizes by special order.
Pipe thread sizes
NPT, National Pipe Thread, is a standard developed a long time ago by people without rulers. 1/8" NPT is nowhere close to 1/8"! Measure the diameter of the fitting across the narrow end. You can also count the number of threads in a 1" section. Then look at the illustration below to determine the correct size needed.