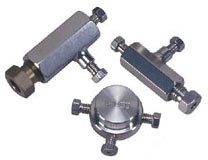 Post column reaction tees
The tee column end fitting (TCEF) has a third connection perpendicular to the normal flowpath. The TCEF permits post-column derivation, or may be used as a curtain flow column inlet fitting. Standard material is Type 316 stainless.
The column and frit shown in the illustration are not included.
NOTE: Post column reaction tees are non-stock items, available on special order. Call for a quote.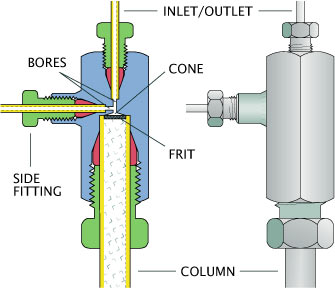 Post column reaction tees
Cone
Inlet
Bore
Side
Bore
Product No.
For 1/16" OD column
1.0 mm
1/32"
0.25 mm
1/32"
0.25 mm
TCEF1.5.5C
1.0 mm
1/32"
0.90 mm
1/32"
0.25 mm
TCEF1.5.5T
1.0 mm
1/16"
0.25 mm
1/16"
0.25 mm
TCEF111
For 1/8" OD column
1.0 mm
1/16"
0.50 mm
1/16"
0.50 mm
TCEF211
1.0 mm
1/16"
1.65 mm
1/16"
0.40 mm
TCEF211T
For 1/4" OD column
4.6 mm
1/16"
0.25 mm
1/16"
0.25 mm
TCEF411C
4.6 mm
1/16"
0.75 mm
1/16"
0.75 mm
TCEF411
4.6 mm
1/16"
1.65 mm
1/16"
0.75 mm
TCEF411T
4.6 mm
1/8"
0.75 mm
1/16"
0.75 mm
TCEF421
For 3/8" OD column
6.0 mm
1/16"
0.75 mm
1/16"
0.75 mm
TCEF611
6.0 mm
1/16"
1.65 mm
1/16"
0.75 mm
TCEF611T
For 1/2" OD column
9.0 mm
1/16"
0.75 mm
1/16"
0.75 mm
TCEF811
9.0 mm
1/16"
1.65 mm
1/16"
0.75 mm
TCEF811T
Top