Semi-preparative and prep column end fittings have .4 mm and .75 mm bores, respectively. All make up on the column with external fittings, and are available with or without a removable 2 micron frit installed.
Standard material is Type 316 stainless.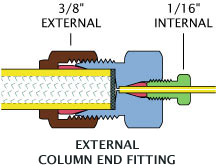 Column end fittings for prep and semi-prep HPLC
Fitting size
Bore
Column ID
Product No.
EXTERNAL PREP AND SEMI-PREP COLUMN END FITTINGS
3/8" to 1/16"
0.4 mm
7.0 mm
with frit
ECEF617.0F
without frit
ECEF617.0
1/2" to 1/16"
0.75 mm
10.0 mm
with frit
ECEF8110.0F
without frit
ECEF8110.0
Call for a quote on other column IDs and sizes.