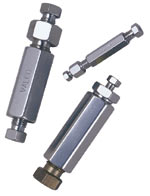 Filters with removable frit
These filters come with a removable 2µ frit. The standard frit can be replaced with any frit of the proper diameter, but not by a screen. These filters are suitable for streams with frequent contamination, since the filtering element is easily changed.
A removable frit also allows the subsitution of a Hastelloy C or titanium frit for the standard stainless one.
Bulkhead versions are designed to be mounted through an instrument panel or on a bracket. The filter body is undercut so that it bites into the panel when the mounting nut is tightened, eliminating the need for a lock washer.
Standard material is Type 316 stainless.
Bulkhead versions and other sizes available on a special order basis.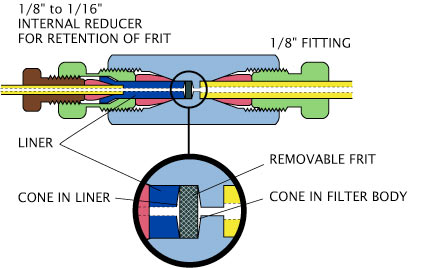 Filter with removable frit
Note:
When the time comes to order replacement frits, it can be difficult to order the correct part if you do not know the product number of your filter. It is good practice to keep a record of the filter product number, or order a package of replacement frits when you order the filter, or both!
Standard Removable Frit Filters
Description
Bore
Frit diameter
Product No.
1/16 to 1/16"
0.25 mm
1/8"
ZUFR1CF
0.50 mm
1/8"
ZUFR1F