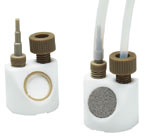 Last Drop mobile phase filter/sparger
The Last Drop filter/sparger combines filtration and sparging in a single unit. The PTFE housing contains a mobile phase filter with either a stainless steel or a PTFE 2.5 micron filter element.
The filter/sparger features a PEEK tripod connector which slips into 1.5, 2.2, or 3.5 mm ID solvent lines, and a nut and ferrule for the sparging line.
Description
Filter element
Product No.
Last Drop filter/sparger
2.5 µm filter
10 µm sparger
PTFE
JR-9000-0602
Stainless steel
JR-9000-0640