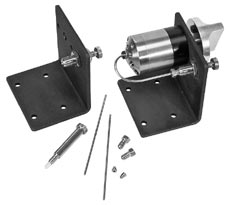 Loop fill port assembly
The loop fill port assembly, for use with Cheminert HPLC and UHPLC valves, permits sample loading and manual injection from the front of the valve.
It includes an aluminum bracket, two syringe fill ports (for 3/4" or 2" needles), a bulkhead union, and two pieces of stainless tubing: one piece is 0.013" ID with a volume of 7 µl, and the other is 0.50 mm ID and 17 µl.
Contact us for more information.