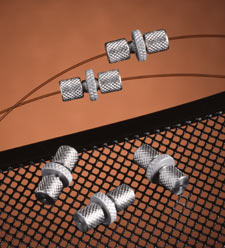 1/32" external unions
The 1/32" external union is specially designed for use with capillary columns in GC. It is very low mass and does not require wrenches to seal.
Note: Use only our one-piece fused silica adapters with this union, since metal ferrules will distort the detail. The 1/32" FS adapters must be ordered separately.

Description
Bore
Product No.
1/32" external union
0.25 mm
EU.5
0.50 mm
EU.5L
1/32"
EU.5T
For tubing OD:
1/32" FS adapters
(pkg. of 5)
≤ 0.25 mm
FS.25-5
0.25 mm ≤ 0.4 mm
FS.4-5
0.4 mm ≤ 0.5 mm
FS.5-5
0.5 mm ≤ 0.8 mm
ZF.5V-5
Top