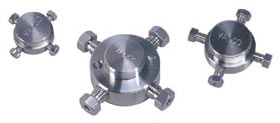 Stainless steel crosses
Crosses connect four lines of the same OD. Standard material is 300 series stainless. Also available in Hastelloy C, gold-plated stainless, and titanium versions.
Tubing OD
Bore
Product No.
1/16"
0.25 mm
ZX1C
0.15 mm
ZX1XCS6
0.50 mm
ZX1M
0.75 mm
ZX1
1.0 mm
ZX1L
* 1/32", 1/8", and 1/4" versions available as special order items.