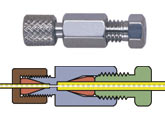 Internal/external reducing union
Internal/external reducing unions are typically used to connect 1/16" stainless steel tubing to fused silica tubing. The 1/16" tubing is made up with an internal fitting and the fused silica tubing is made up with an external fitting. In the bulkhead version, the bulkhead nut is on the side with the internal fitting. Standard material is 300 series stainless.

Internal/external bulkhead reducing union
Bulkhead versions are designed to be mounted through an instrument panel or on a bracket. The fitting body is undercut so that it bites into the panel when the mounting nut is tightened, eliminating the need for a lock washer. Custom configurations, such as with the external nut on the locking nut side, are available on special request.
Note:Use only our one-piece fused silica adapters in the 1/32" external detail of this union, since metal ferrules will distort it. These unions include a stainless steel ferrule for the 1/16" SS tube, but because of the variety of fused silica ODs and corresponding ferrules, a 1/32" fused silica adapter must be ordered separately.
Standard internal/external reducing union
Description
Bore
Product No.
1/16" internal to 1/32" external reducing union
0.25 mm
EZRU.51
0.50 mm
EZRU.51L
1/32"
EZRU.51T
For tubing OD:
1/32" FS adapters
(pkg. of 5)
≤ 0.20 mm
FS.2-5
0.20 mm ≤ 0.25 mm
FS.25-5
0.25 mm ≤ 0.36 mm
FS.36-5
0.36 mm ≤ 0.40 mm
FS.4-5
0.40 mm ≤ 0.50 mm
FS.5-5
0.50 mm ≤ 0.80 mm
ZF.5V-5
Bulkhead internal/external reducing unions
The "Hole" heading in the table below refers to the size of the hole required for mounting the union through a bulkhead or panel.
Description
Bore
Hole
Product No.
1/16" internal to 1/32" external reducing union, bulkhead version
0.25 mm
5/16"
EZBRU.51
0.50 mm
5/16"
EZBRU.51L
1/32"
5/16"
EZBRU.51T
For tubing OD:
1/32" FS adapters
(pkg. of 5)
≤ 0.20 mm
FS.2-5
0.20 mm ≤ 0.25 mm
FS.25-5
0.25 mm ≤ 0.36 mm
FS.36-5
0.36 mm ≤ 0.40 mm
FS.4-5
0.40 mm ≤ 0.50 mm
FS.5-5
0.50 mm ≤ 0.80 mm
ZF.5V-5
Top