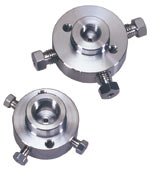 Manifold pipe adapters
These manifolds, which go from one or two pipe fittings to three Valco zero dead volume fittings, minimize the number of connections between a regulator and the various carrier gas lines in a chromatographic system. The models with two pipe fittings go a step further, allowing the support of a gauge, a second regulator, or a valve leading to a separate system.
Standard material is 300 series stainless. Versions in Hastelloy C and titanium, or with additional Valco zero dead volume fittings, are available on a special order basis.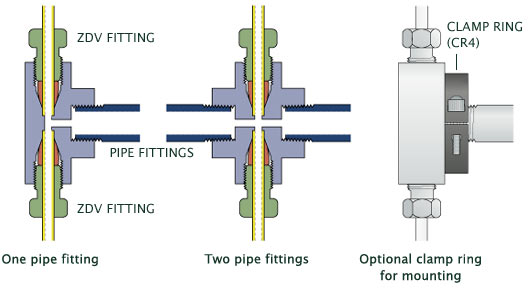 Pipe
ZDV
Bore
Product No.
One 1/8"
1/16"
1.0 mm
FP1Z3M21
1/8"
2.0 mm
FP1Z3M22
1/4"
4.6 mm
FP1Z3M24
One 1/4"
1/16"
1.0 mm
FP1Z3M41
1/8"
2.0 mm
FP1Z3M42
1/4"
4.6 mm
FP1Z3M44
Two 1/8"
1/16"
1.0 mm
FP2Z3M21
1/8"
2.0 mm
FP2Z3M22
1/4"
4.6 mm
FP2Z3M24
Two 1/4"
1/16"
1.0 mm
FP2Z3M41
1/8"
2.0 mm
FP2Z3M42
1/4"
4.6 mm
FP2Z3M44
Optional clamp ring for mounting
CR4
Top