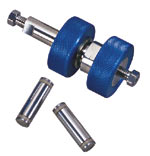 This cartridge-based system is designed for use as a precolumn or concentrator column in HPLC and FIA applications. It is particularly suited to applications requiring frequent changes - snap-on seals are replaceable, the cartridge is reusable, and the tubing connections are stable since the end fittings do not rotate as the assembly is tightened.
Standard material is Type 316 stainless, with PEEK seals and 2µ titanium frits. The cartridge is 0.25 ml (4.0 mm ID x 2 cm long).
NOTE: These precolumns are non-stock items, available on special order. Call for a quote.