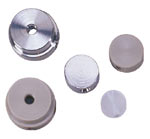 Inserts are made of stainless steel, Hastelloy C, Titanium, PEEK, or CTFE. PEEK rings are not usable above 75°C. The stainless steel ring with a metal insert can operate at up to 10,000 psi for HPLC or SFC.
We recommend that replacement ferrules be the same material as the insert, and replacement nuts be the same as the ring. All standard Valco zero dead volume nuts and reducing ferrules (ZRF, FS, and FSR) will work in these fittings.
Select an adapter size and material below to view product numbers.
Rings
Inserts with 1/32" fittings
Inserts with 1/16" fittings
Replacement rings with 1/32" fittings
For:
Material
Product No.
Union, tee, or cross
Stainless
MRX.5S6
PEEK
MRX.5PK
Y
Stainless
MRY.5S6
PEEK
MRY.5PK
Replacement rings with 1/16" fittings
Union, tee, or cross
Stainless
MRX1S6
PEEK
MRX1PK
Y
Stainless
MRY1S6
PEEK
MRY1PK
Replacement inserts with 1/32" fittings, 0.15 mm bore
For:
Material
Product No.
Union
Stainless
MIU.5XCS6
Hastelloy C
MIU.5XCHC
Titanium
MIU.5XCTI
PEEK
MIU.5XCPK
CTFE
MIU.5XCKF
Tee
Stainless
MIT.5XCS6
Hastelloy C
MIT.5XCHC
Titanium
MIT.5XCTI
PEEK
MIT.5XCPK
CTFE
MIT.5XCKF
Y
Stainless
MIY.5XCS6
Hastelloy C
MIY.5XCHC
Titanium
MIY.5XCTI
PEEK
MIY.5XCPK
CTFE
MIY.5XCKF
Cross
Stainless
MIX.5XCS6
Hastelloy C
MIX.5XCHC
Titanium
MIX.5XCTI
PEEK
MIX.5XCPK
CTFE
MIX.5XCKF
Replacement inserts with 1/32" fittings, 0.25 mm bore
For:
Material
Product No.
Union
Stainless
MIU.5CS6
Hastelloy C
MIU.5CHC
Titanium
MIU.5CTI
PEEK
MIU.5CPK
CTFE
MIU.5CKF
Tee
Stainless
MIT.5CS6
Hastelloy C
MIT.5CHC
Titanium
MIT.5CTI
PEEK
MIT.5CPK
CTFE
MIT.5CKF
Y
Stainless
MIY.5CS6
Hastelloy C
MIY.5CHC
Titanium
MIY.5CTI
PEEK
MIY.5CPK
CTFE
MIY.5CKF
Cross
Stainless
MIX.5CS6
Hastelloy C
MIX.5CHC
Titanium
MIX.5CTI
PEEK
MIX.5CPK
CTFE
MIX.5CKF
Replacement inserts with 1/16" fittings, 0.15 mm bore
For:
Material
Product No.
Union
Stainless
MIU1XCS6
Hastelloy C
MIU1XCHC
Titanium
MIU1XCTI
PEEK
MIU1XCPK
CTFE
MIU1XCKF
Tee
Stainless
MIT1XCS6
Hastelloy C
MIT1XCHC
Titanium
MIT1XCTI
PEEK
MIT1XCPK
CTFE
MIT1XCKF
Y
Stainless
MIY1XCS6
Hastelloy C
MIY1XCHC
Titanium
MIY1XCTI
PEEK
MIY1XCPK
CTFE
MIY1XCKF
Cross
Stainless
MIX1XCS6
Hastelloy C
MIX1XCHC
Titanium
MIX1XCTI
PEEK
MIX1XCPK
CTFE
MIX1XCKF
Replacement inserts with 1/16" fittings, 0.25 mm bore
For:
Material
Product No.
Union
Stainless
MIU1CS6
Hastelloy C
MIU1CHC
Titanium
MIU1CTI
PEEK
MIU1CPK
CTFE
MIU1CKF
Tee
Stainless
MIT1CS6
Hastelloy C
MIT1CHC
Titanium
MIT1CTI
PEEK
MIT1CPK
CTFE
MIT1CKF
Y
Stainless
MIY1CS6
Hastelloy C
MIY1CHC
Titanium
MIY1CTI
PEEK
MIY1CPK
CTFE
MIY1CKF
Cross
Stainless
MIX1CS6
Hastelloy C
MIX1CHC
Titanium
MIX1CTI
PEEK
MIX1CPK
CTFE
MIX1CKF