Low pressure
Stream selector
10-32 ZDV
1/16"
0.75 mm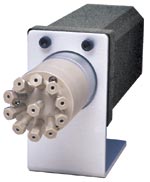 Cheminert low pressure selector with Valco 1/16" ZDV fittings
Model C25Z stream selectors can be actuated manually or automated with pneumatic or electric actuators. A complete valve product number includes information about the valve, actuator, and mounting hardware.
Valves include 1/16" PEEK hex head nuts and ferrules. One piece or standard fingertight fittings and ferrules of other materials may be ordered separately.
Select the desired number of positions below to view product numbers.
Low pressure
Stream selector
10-32 ZDV
1/16"
0.75 mm
4 position selectors
Microelectric and universal actuators:
24 VDC, with 110/230 VAC to 24 VDC power supply
Description
Product No.
Manual
C25Z-3184
With air actuator
C25Z-3184A
With Modular Universal Actuator
Choose interface:
Digital I/O
C25Z-3184UMH
RS-232
C25Z-3184UMHA
RS-485
C25Z-3184UMHF
BCD
C25Z-3184UMHC
With universal actuator
Choose interface:
Digital I/O
C25Z-3184EUH
RS-232
C25Z-3184EUHA
RS-485
C25Z-3184EUHF
USB
C25Z-3184EUHB
BCD
C25Z-3184EUHC
Replacement valve
C25Z-3184D
Replacement rotor
C15-310
Replacement stator
C25Z-384
Low pressure
Stream selector
10-32 ZDV
1/16"
0.75 mm
6 position selectors
Microelectric and universal actuators:
24 VDC, with 110/230 VAC to 24 VDC power supply
Description
Product No.
Manual
C25Z-3186
With air actuator
C25Z-3186A
With Modular Universal Actuator
Choose interface:
Digital I/O
C25Z-3186UMH
RS-232
C25Z-3186UMHA
RS-485
C25Z-3186UMHF
BCD
C25Z-3186UMHC
With universal actuator
Choose interface:
Digital I/O
C25Z-3186EUH
RS-232
C25Z-3186EUHA
RS-485
C25Z-3186EUHF
USB
C25Z-3186EUHB
BCD
C25Z-3186EUHC
Replacement valve
C25Z-3186D
Replacement rotor
C15-310
Replacement stator
C25Z-386
Low pressure
Stream selector
10-32 ZDV
1/16"
0.75 mm
8 position selectors
Microelectric and universal actuators:
24 VDC, with 110/230 VAC to 24 VDC power supply
Description
Product No.
Manual
C25Z-3188
With air actuator
C25Z-3188A
With Modular Universal Actuator
Choose interface:
Digital I/O
C25Z-3188UMH
RS-232
C25Z-3188UMHA
RS-485
C25Z-3188UMHF
BCD
C25Z-3188UMHC
With universal actuator
Choose interface:
Digital I/O
C25Z-3188EUH
RS-232
C25Z-3188EUHA
RS-485
C25Z-3188EUHF
USB
C25Z-3188EUHB
BCD
C25Z-3188EUHC
Replacement valve
C25Z-3188D
Replacement rotor
C15-310
Replacement stator
C25Z-388
Low pressure
Stream selector
10-32 ZDV
1/16"
0.75 mm
10 position selectors
Microelectric and universal actuators:
24 VDC, with 110/230 VAC to 24 VDC power supply
Description
Product No.
Manual
C25Z-3180
With air actuator
C25Z-3180A
With Modular Universal Actuator
Choose interface:
Digital I/O
C25Z-3180UMH
RS-232
C25Z-3180UMHA
RS-485
C25Z-3180UMHF
BCD
C25Z-3180UMHC
With universal actuator
Choose interface:
Digital I/O
C25Z-3180EUH
RS-232
C25Z-3180EUHA
RS-485
C25Z-3180EUHF
USB
C25Z-3180EUHB
BCD
C25Z-3180EUHC
Replacement valve
C25Z-3180D
Replacement rotor
C15-310
Replacement stator
C25Z-380
Low pressure
Stream selector
10-32 ZDV
1/16"
0.75 mm
12 position selectors
Microelectric and universal actuators:
24 VDC, with 110/230 VAC to 24 VDC power supply
Description
Product No.
Manual
C25Z-31812
With air actuator
C25Z-31812A
With Modular Universal Actuator
Choose interface:
Digital I/O
C25Z-31812UMH
RS-232
C25Z-31812UMHA
RS-485
C25Z-31812UMHF
BCD
C25Z-31812UMHC
With universal actuator
Choose interface:
Digital I/O
C25Z-31812EUH
RS-232
C25Z-31812EUHA
RS-485
C25Z-31812EUHF
USB
C25Z-31812EUHB
BCD
C25Z-31812EUHC
Replacement valve
C25Z-31812D
Replacement rotor
C25Z-31R12
Replacement stator
C25Z-3C812
Low pressure
Stream selector
10-32 ZDV
1/16"
0.75 mm
14 position selectors
Microelectric and universal actuators:
24 VDC, with 110/230 VAC to 24 VDC power supply
Description
Product No.
Manual
C25Z-31814
With Modular Universal Actuator
Choose interface:
Digital I/O
C25Z-31814UMH
RS-232
C25Z-31814UMHA
RS-485
C25Z-31814UMHF
BCD
C25Z-31814UMHC
With universal actuator
Choose interface:
Digital I/O
C25Z-31814EUH
RS-232
C25Z-31814EUHA
RS-485
C25Z-31814EUHF
USB
C25Z-31814EUHB
BCD
C25Z-31814EUHC
Replacement valve
C25Z-31814D
Replacement rotor
C25Z-325
Replacement stator
C25Z-38-14