Low pressure
1/2-20 internal
1/4"
2.0 to 4.6 mm
Model C42R sample injectors and switching valves are available in manual versions, or on pneumatic or electric actuators. A complete valve product number includes information about the valve, actuator, and mounting hardware. Valves include Cheminert 1/2-20 flangeless fittings for 1/4" tubing, Delrin nuts, and CTFE ferrules.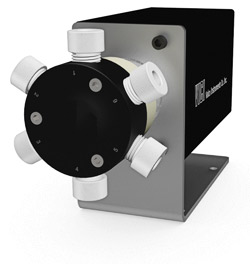 Cheminert low pressure valve with 1/2-20 fittings for 1/4" tubing
Select the desired number of ports below to view product numbers.
4 port valves
Microelectric and universal actuators:
24 VDC, with 110/230 VAC to 24 VDC power supply
Description
Product No.
3.2 mm bore
(.125")
With air actuator
C42R-8144A
With Modular Universal Actuator
Choose interface:
Digital I/O
C42R-8144UMT
RS-232
C42R-8144UMTA
RS-485
C42R-8144UMTF
BCD
C42R-8144UMTC
With universal actuator
Choose interface:
Digital I/O
C42R-8144EUT
RS-232
C42R-8144EUTA
RS-485
C42R-8144EUTF
USB
C42R-8144EUTB
BCD
C42R-8144EUTC
Replacement valve
C42R-8144D
Replacement rotor
C42R-81R4
Replacement stator
C42R-8C44
4.6 mm bore
(.180")
With air actuator
C42R-9144A
With Modular Universal Actuator
Choose interface:
Digital I/O
C42R-9144UMT
RS-232
C42R-9144UMTA
RS-485
C42R-9144UMTF
BCD
C42R-9144UMTC
With universal actuator
Choose interface:
Digital I/O
C42R-9144EUT
RS-232
C42R-9144EUTA
RS-485
C42R-9144EUTF
USB
C42R-9144EUTB
BCD
C42R-9144EUTC
Replacement valve
C42R-9144D
Replacement rotor
C42R-91R4
Replacement stator
C42R-9C44
6 port valves
Microelectric and universal actuators:
24 VDC, with 110/230 VAC to 24 VDC power supply
Description
Product No.
3.2 mm bore
(.125")
With air actuator
C42R-8146A
With Modular Universal Actuator
Choose interface:
Digital I/O
C42R-8146UMT
RS-232
C42R-8146UMTA
RS-485
C42R-8146UMTF
BCD
C42R-8146UMTC
With universal actuator
Choose interface:
Digital I/O
C42R-8146EUT
RS-232
C42R-8146EUTA
RS-485
C42R-8146EUTF
USB
C42R-8146EUTB
BCD
C42R-8146EUTC
Replacement valve
C42R-8146D
Replacement rotor
C42R-81R6
Replacement stator
C42R-8C46
3.9 mm bore
(.155")
With air actuator
C42R-9146A
With Modular Universal Actuator
Choose interface:
Digital I/O
C42R-9146UMT
RS-232
C42R-9146UMTA
RS-485
C42R-9146UMTF
BCD
C42R-9146UMTC
With universal actuator
Choose interface:
Digital I/O
C42R-9146EUT
RS-232
C42R-9146EUTA
RS-485
C42R-9146EUTF
USB
C42R-9146EUTB
BCD
C42R-9146EUTC
Replacement valve
C42R-9146D
Replacement rotor
C42R-91R6
Replacement stator
C42R-9C46
8 port valves - 2.9 mm (.110")
Microelectric and universal actuators:
24 VDC, with 110/230 VAC to 24 VDC power supply
Description
Product No.
With air actuator
C42R-8148A
With Modular Universal Actuator
Choose interface:
Digital I/O
C42R-8148UMT
RS-232
C42R-8148UMTA
RS-485
C42R-8148UMTF
BCD
C42R-8148UMTC
With universal actuator
Choose interface:
Digital I/O
C42R-8148EUT
RS-232
C42R-8148EUTA
RS-485
C42R-8148EUTF
USB
C42R-8148EUTB
BCD
C42R-8148EUTC
Replacement valve
C42R-8148D
Replacement rotor
C42R-81R8
Replacement stator
C42R-8C48
10 port valves - 2.0 mm (.080")
Microelectric and universal actuators:
24 VDC, with 110/230 VAC to 24 VDC power supply
Description
Product No.
With air actuator
C42R-8140A
With Modular Universal Actuator
Choose interface:
Digital I/O
C42R-8140UMT
RS-232
C42R-8140UMTA
RS-485
C42R-8140UMTF
BCD
C42R-8140UMTC
With universal actuator
Choose interface:
Digital I/O
C42R-8140EUT
RS-232
C42R-8140EUTA
RS-485
C42R-8140EUTF
USB
C42R-8140EUTB
BCD
C42R-8140EUTC
Replacement valve
C42R-8140D
Replacement rotor
C42R-81R0
Replacement stator
C42R-8C40
Replacement 1/2-20 fittings

Description
Material
Product No.
Nut, 1/2-20
PPS
CFL-4PPS
Delrin
CFL-4D
CTFE
CFL-4KF*
Ferrule (pkg/5
CTFE
CFL-CB4KF-5
*Available as a special order item