Low pressure
Stream selector
1/4-28 Internal
1/8"
1.50 mm
Model C25 stream selectors can be actuated manually or automated with pneumatic or electric actuators. A complete valve product number includes information about the valve, actuator, and mounting hardware. Valves include multicolored 1/4-28 flangeless fittings.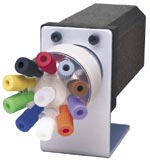 heminert low pressure selector with 1/4-28 fittings for 1/8" tubing
Select the desired number of positions below to view product numbers.
Low pressure
Stream selector
1/4-28 Internal
1/8"
1.50 mm
4 position selectors
Microelectric and universal actuators:
24 VDC, with 110/230 VAC to 24 VDC power supply
Description
Product No.
Manual
C25-6184
With air actuator
C25-6184A
With Modular Universal Actuator
Choose interface:
Digital I/O
C25-6184UMH
RS-232
C25-6184UMHA
RS-485
C25-6184UMHF
BCD
C25-6184UMHC
With universal actuator
Choose interface:
Digital I/O
C25-6184EUH
RS-232
C25-6184EUHA
RS-485
C25-6184EUHF
USB
C25-6184EUHB
BCD
C25-6184EUHC
Replacement valve
C25-6184D
Replacement rotor
C25-614
Replacement stator
C25-684
Low pressure
Stream selector
1/4-28 Internal
1/8"
1.50 mm
6 position selectors
Microelectric and universal actuators:
24 VDC, with 110/230 VAC to 24 VDC power supply
Description
Product No.
Manual
C25-6186
With air actuator
C25-6186A
With Modular Universal Actuator
Choose interface:
Digital I/O
C25-6186UMH
RS-232
C25-6186UMHA
RS-485
C25-6186UMHF
BCD
C25-6186UMHC
With universal actuator
Choose interface:
Digital I/O
C25-6186EUH
RS-232
C25-6186EUHA
RS-485
C25-6186EUHF
USB
C25-6186EUHB
BCD
C25-6186EUHC
Replacement valve
C25-6186D
Replacement rotor
C25-616
Replacement stator
C25-686
Low pressure
Stream selector
1/4-28 Internal
1/8"
1.50 mm
8 position selectors
Microelectric and universal actuators:
24 VDC, with 110/230 VAC to 24 VDC power supply
Description
Product No.
Manual
C25-6188
With air actuator
C25-6188A
With Modular Universal Actuator
Choose interface:
Digital I/O
C25-6188UMH
RS-232
C25-6188UMHA
RS-485
C25-6188UMHF
BCD
C25-6188UMHC
With universal actuator
Choose interface:
Digital I/O
C25-6188EUH
RS-232
C25-6188EUHA
RS-485
C25-6188EUHF
USB
C25-6188EUHB
BCD
C25-6188EUHC
Replacement valve
C25-6188D
Replacement rotor
C25-618
Replacement stator
C25-688
Low pressure
Stream selector
1/4-28 Internal
1/8"
1.50 mm
10 position selectors
Microelectric and universal actuators:
24 VDC, with 110/230 VAC to 24 VDC power supply
Description
Product No.
Manual
C25-6180
With air actuator
C25-6180A
With Modular Universal Actuator
Choose interface:
Digital I/O
C25-6180UMH
RS-232
C25-6180UMHA
RS-485
C25-6180UMHF
BCD
C25-6180UMHC
With universal actuator
Choose interface:
Digital I/O
C25-6180EUH
RS-232
C25-6180EUHA
RS-485
C25-6180EUHF
USB
C25-6180EUHB
BCD
C25-6180EUHC
Replacement valve
C25-6180D
Replacement rotor
C25-610
Replacement stator
C25-680