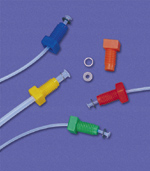 FEP, PFA, ETFE, and PTFE tubing
1/16" or 1/8" OD
Color-coded with 12 colors
Great volume discounts
For your convenience, we now offer 1/16" OD x .030" ID or 1/8" OD x 1/16" ID tubing of the length and material you specify, with color-coded flanged fittings already installed. Cheminert 1/4-28 flanged tube end fittings attach directly to Cheminert valves and fittings, and are easily joined to each other with a union. Finger-tightness is all that is required to make a leak-free seal at 500 psi liquid.