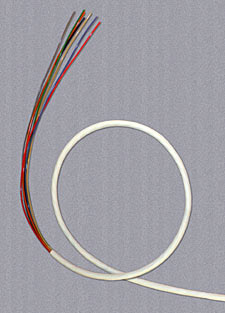 Simplifies installations
Up to 16 tubes in one run
Polymeric or metallic tubing, or any combination
This concept greatly simplifies the installation of tubing from the point of origin to the final prep area. We can wrap as many as sixteen 1/16" tubes and bundle them inside polyolefin shrink wrap so that you only do one run for 16 tubes. Any extra or redundant tubes save time and labor in future replacement and maintenance.
Typical use is with color-coded PEEK tubing, but we can also bundle other polymers as well as stainless steel, specialty metals, or any combination.