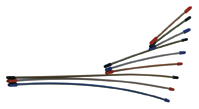 Color-coding identifies the ID of your 1/16" OD PEEK tubing – each ID is coded with a different color. The stripe is added to the outside, so dye never contacts the fluid stream. Available in pre-cut kits and in custom lengths and bulk quantities.
PEEK tubing has the strength required to withstand continuous use at HPLC pressure without swelling or bursting, and is not affected by halide salts, high strength buffers, or other aggressive mobile phases that corrode stainless steel. The polymer surface will not leach metal ions into the eluent or extract metal-sensitive components from the sample. Note however that dichloromethane, THF, and DMSO may cause swelling in PEEK, and concentrated nitric and sulphuric acid will attack PEEK.
Tolerance on the OD and ID ±.001".
Pre-cut kits: 1/16" OD striped color-coded PEEK tubing
Each kit includes 15 pieces of tubing: 5 each of 5 cm, 10 cm, and 20 cm pre-cut lengths.
Tubing ID
Color
bar*
psi*
Product No.
.005"
Red
460
6700
JR-T-98013
.007"
Yellow
440
6400
JR-T-98017
.010"
Blue
420
6100
JR-T-98025
.020"
Orange
345
5000
JR-T-98050
.030"
Green
262
3800
JR-T-98075
Super-kit: 1 of each above
JR-T-98200
* Recommended maximum permanent working pressures calculated
from the burst pressure and the factor 2.5
Bulk/custom quantities: 1/16" OD striped color-coded PEEK tubing
| Tubing ID | Color | bar* | psi* | Product No. |
| --- | --- | --- | --- | --- |
| .004" | Black | 460 | 6700 | JR-T-5804 |
| .005" | Red | 460 | 6700 | JR-T-5999 |
| .007" | Yellow | 440 | 6400 | JR-T-6000 |
| .010" | Blue | 420 | 6100 | JR-T-6001 |
| .020" | Orange | 345 | 5000 | JR-T-6002 |
| .030" | Green | 262 | 3800 | JR-T-6003 |
| .040" | Grey | 179 | 2600 | JR-T-60031 |
* Recommended maximum permanent working pressures calculated
from the burst pressure and the factor 2.5