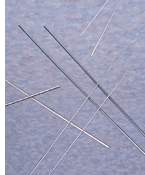 These packages of pre-cut Type 316 stainless tubing provide an economical solution to the problems that are caused by "seat-of-the-pants" cutting in the lab or field. They are priced to give a savings over the per-cut charge for custom-cut tubing.
All tubing is electrolytically cut and specially steam-cleaned with micro-filtered steam from deionized water, which removes both organic and inorganic contaminants.
In addition, we are expert at producing custom bent and shaped tubing. Contact us to learn more about our custom tube bending service.
Select a size below to view product numbers for pre-cut SS tubing:
1/32" OD
1/16" OD