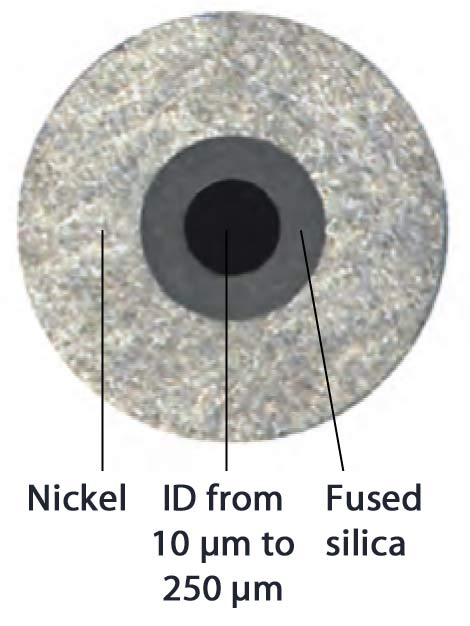 Inert, flexible transfer lines
Improved heat transfer
Thick wall version allows direct connection using metal ferrules
Rated for up to 40,000 psi (dependant on size and plating thickness)
We take polyimide-coated 360 µm fused silica (FS) and remove the polyimide layer. Then we electro-chemically plate the FS with pure nickel to a diameter of 800 µm (1/32"). The resulting nickel-plated FS tube provides superior heat transfer to the FS lining, permitting use as a flexible transfer line with the best qualities of silica-lined stainless but with improved heat transfer and a shorter bend radius.
The 1/32" OD tubing is available in IDs from 10µm to 250 µm (.0004" to .010").
For high pressure applications, we recommend using our 1/32" 316 stainless ferrules.
1/32" OD Nickel-clad fused silica tubing
| ID (µm) | Product number |
| --- | --- |
| 10 | TNFS800010 |
| 15 | TNFS800015 |
| 20 | TNFS800020 |
| 25 | TNFS800025 |
| 30 | TNFS800030 |
| 40 | TNFS800040 |
| 50 | TNFS800050 |
| 75 | TNFS800075 |
| 100 | TNFS800100 |
| 125 | TNFS800125 |
| 180 | TNFS800180 |
| 250 | TNFS800250 |