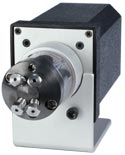 Cheminert UHPLC internal sample injectors are for applications in which the sample size in smaller than that of any available external loop.
A proprietary rotor material and stator coating achieve pressures to 20,000 psi, suitable for the most demanding nano UHPLC analytical techniques. All models are compatible with any VICI actuation option.
Internal sample injectors for Nanovolume® UHPLC
Select pressure rating for product numbers and information.
Fittings
Bore size
Sample sizes
available
SELECT
pressure rating:
360 micron

100 µm
4, 10, or 20 nl
10,000 psi
15,000 psi
20,000 psi
150 µm
10, 20, or 30 nl
10,000 psi
15,000 psi
20,000 psi
1/32" Valco

100 µm
4, 10, or 20 nl
10,000 psi
15,000 psi
20,000 psi
150 µm
10, 20, or 30 nl
10,000 psi
15,000 psi
20,000 psi
1/16" Valco

150 µm
10, 20, or 50 nl
10,000 psi
15,000 psi
20,000 psi