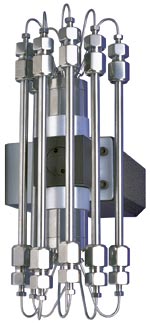 HPLC column selection system
The column selector system comprises two Model C5 stream selection valves mounted on a single universal actuator, which can be controlled manually, via remote logic level signal, or by serial interface (RS-232/485 switchable) with the cable included. Consult the factory about optional USB or BCD operation.
Valves with N60 stators include 1/16" stainless steel nuts and ferrules. Valves with PAEK stators include PEEK fittings.
Columns are not included.
HPLC column selector systems
Universal actuator: 24 VDC, with 110/230 VAC to 24 VDC power supply
NOTE: The two valves in these systems have mirror image stators. Please consult techical support to determine the proper product numbers before ordering replacement valves or stators.
Stator
Description
Product No.
Four column
selector
N60
Complete system
C5-2004EUTAD
Replacement rotor
C5-20R4
PAEK
Complete system
C5-2344EUTAD
Replacement rotor
C5-23R4
Six column
selector
N60
Complete system
C5-2006EUTAD
Replacement rotor
C5-20R6
PAEK
Complete system
C5-2346EUTAD
Replacement rotor
C5-23R6
Eight column
selector
N60
Complete system
C5H-2008EUTAD
Replacement rotor
C5-20R8H
PAEK
Complete system
C5H-2348EUTAD
Replacement rotor
C5-23R8H
Ten column
selector
N60
Complete system
C5H-2000EUTAD
Replacement rotor
C5-20R0H
PAEK
Complete system
C5H-2340EUTAD
Replacement rotor
C5-23R0H
Top