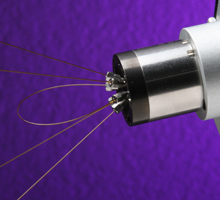 Cheminert Nanovolume® injectors, switching valves, and selectors are ideal for high speed, high throughput nano HPLC techniques which demand a valve and fitting system that minimize internal volume and eliminate dead volume.
All models are compatible with any VICI actuation option, except for manual-only through-the-handle injectors.
Nanovolume HPLC Injectors and switching valves, 5000 psi
Select the stator material in the right column for product numbers and information.
Fittings
Bore size
Ports available
SELECT
stator material:
360µm


100 or 150µm
4, 6, 8, or 10
PEEK
Nitronic 60
1/32" Valco


100 or 150 µm
6 or 10
PAEK
Nitronic 60