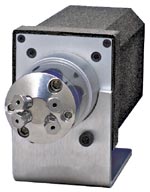 Cheminert analytical HPLC internal sample injectors can inject samples as small as 10 nanoliters. Valves feature 1/16" zero dead volume fittings and 0.25 mm bore.
All models are compatible with any VICI actuation option.
Internal sample injectors, 5000 psi
Select the stator material in the right column for product numbers and information.
Fittings
Bore size
Sample sizes available
SELECT
stator material:
1/16" Valco


0.25 mm
.05, 0.1, 0.2, or 0.5 µl
PAEK
Nitronic 60
Titanium