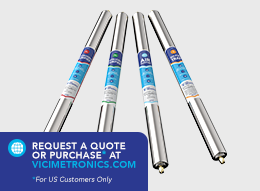 Removes all sulfur-containing compounds from any non-reactive gas
Also removes halocarbons and most non-methane hydrocarbons
This unique trap was developed to support sulfur analyzers. For low level detection, the removal of all sulfur compounds present in the supply gas is essential.
This trap will also improve the performance and catalyst lifetime of zero air instruments, since the catalysts used are prone to poisoning from halocarbons and sulfur compounds.
Fitting size
Length
Product No.
1/8"
12"
T400-1
22.5"
T401-1*
1/4"
12"
T400-2
22.5"
T401-2*
* Special order