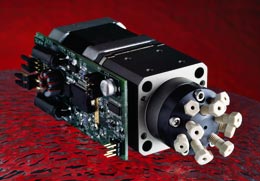 Our integrated motor/injectors are compact assemblies specifically designed to be built into an OEM system. Using the well-proven Cheminert valve design and the 24 volt motor from our popular microelectric actuators, they need only to be connected to an instrument's power supply.
A low pressure model is available in addition to the analytical and microbore HPLC versions.
Integrated motor/injectors
Select option in right column for product numbers and information.
Application
Fittings
Bore
Ports available
SELECT:
Microbore
HPLC,
5000 psi
1/16" Valco


0.25 mm
4, 6, 8, and 10
PAEK
Nitronic 60
Analytical
HPLC,
5000 psi
1/16" Valco


0.40 mm
4, 6, 8, and 10
PAEK
Nitronic 60
Low pressure
100 psi gas,
250 psi liq
1/16" Valco

0.75 mm
4, 6, 8, and 10
10-32 ZDV fittings
1/4-28

0.75 mm
4, 6, 8, and 10
1/4-28 fittings
for 1/16" tubing
1.50 mm
4, 6, 8, and 10
1/4-28 fittings
for 1/8" tubing
Top