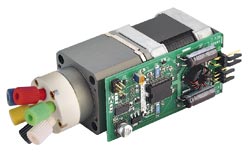 Our integrated motor/injectors are compact assemblies specifically designed to be built into an OEM system. Using the well-proven Cheminert valve design and the 24 volt motor from our popular microelectric actuators, they need only to be connected to an instrument's power supply.
The low pressure model is available with 1/16" Valco ZDV fittings or 1/4-28 fittings for 1/16" or 1/8" tubing.
Integrated motor/injectors
Select option in right column for product numbers and information.
Application
Fittings
Bore
Ports available
SELECT:
Low pressure
100 psi gas,
250 psi liq
1/16" Valco

0.75 mm
4, 6, 8, and 10
10-32 ZDV fittings
1/4-28

0.75 mm
4, 6, 8, and 10
1/4-28 fittings
for 1/16" tubing
1.50 mm
4, 6, 8, and 10
1/4-28 fittings
for 1/8" tubing