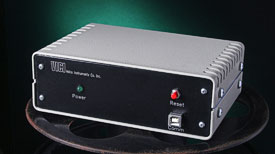 For use with nickel-wire and nickel-clad resistively-heated columns
CE-certified
Programmable 8-state temperature profile
Compatible with any GC or analyzer
User-friendly Windows-based control and monitor program
OEM and end user versions available
The VICI fast temperature programmer is designed for precise temperature programming with rapid heating and cooling of a low mass nickel-clad or nickel-wire fast GC column. The column is resistively-heated by applying a low-voltage current to the column coating or wire, eliminating the need for a traditional GC column oven and heating element with their power and space requirements. Column temperature is controlled by regulating the amount of current, with a small fan for quickly cooling the low-mass column to near-ambient temperature.
These features plus speed, compact size, and low power requirement make this unit an ideal component in fast, portable GCs, but it can be easily employed on any GC or analyzer.
The Windows-based control program (screen capture below) facilitates simple creation of temperature profiles with as many as eight states, and allows multiple columns to be tuned with each configuration saved for reloading. Multiple data parameters can be graphed, with data logged and analyzed.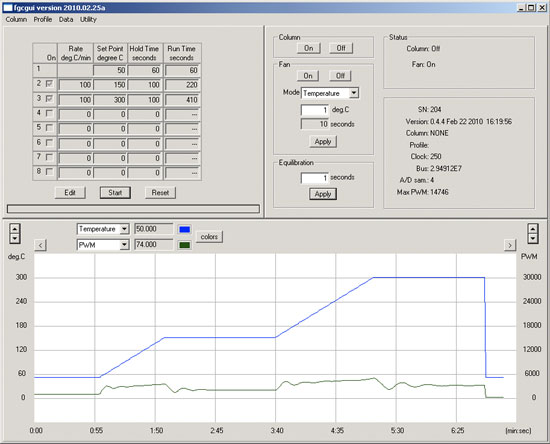 | Description | Product number |
| --- | --- |
| Fast temperature programmer | FTP-100 |
Specifications
Programmable temperature states
8
Fan modes
4
Max ramp rate
5m column
1,200°C/minute
15m column
500°C/minute
Accuracy
Isothermal
0.1°C
Programmed
<0.5°C, in most cases
Interfaces
USB, I2C
Top