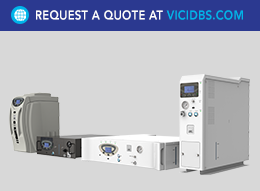 FID Station hydrogen generator
Save money
Improve chromatographic performance
Enhance safety and productivity
Two product lines offer a choice between 99.99996% or 99.9996% purity
VICI DBS hydrogen generators offer a safe, economical, and convenient alternative to gas cylinders for use with gas chromatography detectors such as FID, NPD, and FPD.
Hydrogen is produced by forcing distilled or deionized water through a sophisticated Swiss-made fuel cell. Electrolytic dissociation separates the water into its two main components: hydrogen ready for analytical use, and oxygen that is released into the air.
No acid no alkaline solutions are used in the hydrogen generation cycle. The patented automatic drying system ensures the maximum grade of hydrogen purity.
In some models, de-ionized water is automatically loaded from smart internal system tanks with a 3 litre capacity, providing up to 3000 litres of H2 before a refill. An optional zero air generator (oil-free compressor not included) provides zero air with hydrocarbon content around 0.5 ppm.
Also available in tower or rack mount versions.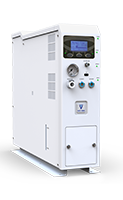 FID Station hydrogen generator - tower configuration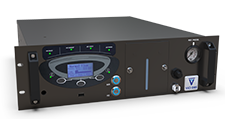 Rack-mount hydrogen generator