Low pressure
Integrated
Stream selector
1/4-28 Internal
1/16"
0.75 mm
Model 65 stream selectors are integrated motor/valve assemblies designed specifically to be built into OEM system. The compact, lightweight package is available in 4, 6, 8, and 10 position configurations.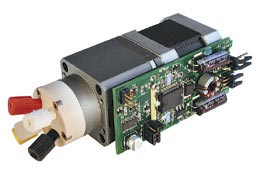 Integrated motor/low pressure selector with 1/4-28 fittings for 1/16" tubing
Using the well-proven Cheminert stream selector design and the 24 volt motor from our popular microelectric actuators, the Model C55 needs only to be connected to an instrument's power supply. A single momentary contact closure steps the valve to the next position; a separate contact closure moves the valve to position 1 (Home). An optional serial interface provides more flexible control.
Valves include multicolored Cheminert flangeless fittings for 1/16" tubing.
Integrated motor/low pressure selector or switching valve
Description
Positions
Product No.
Valve with motor, sensor, and controller
4
C65-3184I
6
C65-3186I
8
C65H-3188I
10
C65H-3180I
Valve with motor, sensor, and controller,
RS-232 version
4
C65-3184IA
6
C65-3186IA
8
C65H-3188IA
10
C65H-3180IA
Valve with motor, sensor, and controller,
RS-485 version
4
C65-3184IF
6
C65-3186IF
8
C65H-3188IF
10
C65H-3180IF
Valve with motor and sensor only
4
C65-3184I-S
6
C65-3186I-S
8
C65H-3188I-S
10
C65H-3180I-S
Replacement rotor

* Check valve part number - Older valves may not use the "H" in their rotor and stator part numbers.
4
C65-316
6
C65-316
8
C65H-318 *
10
C65H-310 *
Replacement stator

* Check valve part number - Older valves may not use the "H" in their rotor and stator part numbers.
4
C65-384
6
C65-386
8
C65H-388 *
10
C65H-380 *
Top