5,000 psi
Analytical
Centered port
1/16"
0.40 mm
Model C3 is a unique injector with a syringe injection port centered on the rear face of the valve (opposite the handle or actuator), allowing convenient syringe insertion when the valve is mounted on an actuator inside an instrument. A syringe fill port for a 22 gauge 3/4" or 2" needle is included.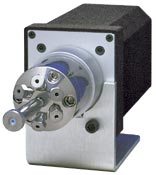 Analytical HPLC centered port injector
Direct syringe loading with a C3 injector allows a choice between the partial-filling method, in which the injection volume is determined by a syringe, and full-loop injection, in which the volume is determined by the size of the loop.
Valves with a PAEK stator include 1/16" PEEK nuts and ferrules and a 20 µl PEEK sample loop. Valves with an N60 stator include 1/16" stainless steel nuts and ferrules and a 20 µl SS sample loop. (Order other sample loops separately.)
Analytical HPLC centered port injectors
Microelectric and universal actuators:
24 VDC, with 110/230 VAC to 24 VDC power supply
Stator
material
Description
Product No.
PAEK
Manual
C3-2346
With air actuator
C3-2346A
With Modular Universal Actuator
Choose interface:
None
C3-2346UMH
RS-232
C3-2346UMHA
RS-485
C3-2346UMHF
BCD
C3-2346UMHC
With universal actuator
Choose interface:
None
C3-2346EUH
RS-232
C3-2346EUHA
RS-485
C3-2346EUHF
USB
C3-2346EUHB
BCD
C3-2346EUHC
Replacement valve
C3-2346D
Replacement rotor
C2-23R6
Replacement stator
C3-2C46
N60 SS
Manual
C3-2006
With air actuator
C3-2006A
With Modular Universal Actuator
Choose interface:
None
C3-2006UMH
RS-232
C3-2006UMHA
RS-485
C3-2006UMHF
BCD
C3-2006UMHC
With universal actuator
Choose interface:
None
C3-2006EUH
RS-232
C3-2006EUHA
RS-485
C3-2006EUHF
USB
C3-2006EUHB
BCD
C3-2006EUHC
Replacement valve
C3-2006D
Replacement rotor
C2-20R6
Replacement stator
C3-2C06
Top