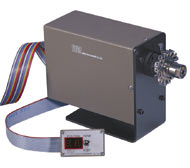 Position indication
Manual or remote control
110 VAC or 230 VAC (two position also available in 24 VDC CE-certified version)
No power demand on the chromatograph
Standard electric actuators may be operated manually by a toggle switch or automatically by any data system with momentary contact closures or 5 VDC negative true logic outputs. A complete system, the actuator includes interface cable, power cord, and manual controller assembly with position indication.
The SVI (serial valve interface) was designed specifically to interface standard electric actuators with RS-232 compatible systems, allowing control of up to six actuators via modem, BASIC program, or Valco-supplied PC software.
The standard electric actuator is designed for room temperature use. Valves which will be mounted in ovens require a standoff assembly.